Making an Insurance Claim vs. Filing a Lawsuit
April 27, 2022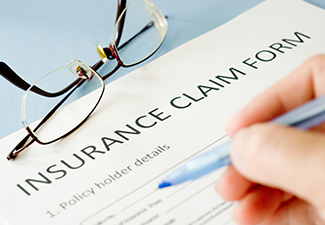 If you have been injured in a car, trucking, motorcycle, bicycle, pedestrian, or other accident in North Carolina where someone was at fault, you're facing a lot of decisions. One of the major ones will be whether you should pursue compensation for your damages by filing a claim against the at-fault party's liability insurance or file a lawsuit against them.
There are multiple factors you should weigh in making this decision, and we can give you the legal information and advice you need to do that. If you have been injured anywhere in North Carolina, including Raleigh, Charlotte, Wilmington, and Asheville, Life Law can help.
What's the Difference Between
an Insurance Claim and Lawsuit?
Since North Carolina is an at-fault state for accidents, those determined to be responsible for causing the accident are financially responsible for compensating their victims. Injured parties can pursue compensation by filing a third-party claim against the negligent party's liability insurance with the goal of settling the claim. Or, they can file a lawsuit against the negligent party and either settle with the insurance company before obtaining a verdict or completing the trial and obtaining a judgment against the at-fault party.
When Should You File an Insurance Claim?
In most personal injury cases, you will file a claim against the at-fault party's liability insurance coverage. Doing so means an insurance adjuster and a claim number will be assigned to the claim. You and your attorney will begin documenting evidence of fault, your injuries, and other damages and assign a value to your claim.
Some of the advantages of filing an insurance claim include knowing what the policy limits are for the at-fault party (although in some cases, you must file a lawsuit before the insurance company will disclose policy limits during discovery). If the limits are sufficient to fully compensate you, your attorney will work toward negotiating with the insurer for the value of your claim. The insurance claims process, as a rule, takes less time and fewer resources than filing a lawsuit.
If the limits of the at-fault party's insurance aren't high enough to fully compensate you, filing a claim could be a disadvantage. Even if the insurer agrees to pay policy limits, you may still be unable to cover the cost of your medical expenses and other damages. Moreover, you are strictly at the mercy of the insurance company, and some are far easier to deal with than others. However, all of them are motivated by increasing company profits by decreasing payouts to victims injured by their insureds.
When Should You File a Personal Injury Lawsuit?
There are four highly compelling reasons for filing a personal injury lawsuit:
If you have been unable to reach a settlement with the insurer and you are running up against North Carolina's statute of limitations for personal injury claims, you need to file a lawsuit to stop the clock from running. You have three years from the date of the accident to settle a personal injury claim with the insurance company or file a lawsuit.

If you believe the insurance company is not negotiating in good faith and you reach a point where it refuses to negotiate any further, filing a lawsuit moves the process to the courtroom, where the insurance company is no longer in control.

If the insurance company refuses to disclose certain information, such as the limits of any policies held by its insured and copies of those policies, you may pursue a lawsuit. Such information is discoverable in a lawsuit.

If the liability limits of the negligent party's insurance policy are insufficient but that party has other assets that could be used to pay a higher judgment against them, you may want to pursue a lawsuit. Policy limits are all the insurance companies will ever pay.
There is an advantage to having your case presented to a neutral third party, such as a judge and jury, rather than having your claim subject to the opinion of a biased insurance adjuster. A judge and jury may award you much higher compensation than the insurance company was willing to pay voluntarily.
There are some disadvantages to taking your case to court. The costs to prosecute your case, which would include the work and testimony of expert witnesses, for example, depositions, exhibits, and the mound of paperwork required, are significantly higher than pursuing an insurance claim. Moreover, it can be years before a verdict is rendered, and the insurer may choose to appeal it.
There is also an inherent risk with filing a suit. You have no idea how much the jury will award you, but if a verdict is rendered, you surrender your right to pursue compensation in any other manner.
How Can Legal Counsel Help?
Although everything involved with personal injury claims is unfamiliar to you, it's extremely familiar territory for an experienced personal injury attorney at Life Law. Helping injury victims obtain compensation is what we do every single day.
We will explore the pros and cons of filing an insurance claim and filing suit so you can decide which course of action, and that may be a combination of both, you want to pursue.
Once you decide, Life Law will guide you through every step of the process. Although you will make all decisions regarding your case, we will do most of the work. You can focus on recovering from your injuries.
We are tough negotiators with insurance companies and tenacious trial attorneys in court. We are neither working against you nor are we neutral. Our only concern is you.
If you have been injured in an accident in Raleigh or anywhere in North Carolina, call Life Law now to schedule a free case consultation. We are here only for you.