The Importance of Seeking Medical Attention After an Accident
Aug. 15, 2023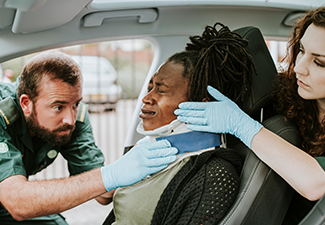 There are many different issues to deal with after you've been in a car accident. From assessing the damage to your vehicle and determining who was to blame for the crash, to working with insurance companies and potentially taking legal action to pursue compensation, your mind may be overloaded with things to consider. One takes precedence over everything else, however—your physical well-being. The importance of seeking medical attention immediately after your accident cannot be overstated.
If you have been injured in an accident in Raleigh (or the surrounding areas of Charlotte, Nags Head, Asheville, Wilmington, or anywhere across the state of North Carolina), you may have grounds to take legal action to pursue financial compensation. Our team at Life Law is ready to lead the way through every step of the legal process. Reach out to us today to schedule a consultation to talk about your accident, your injuries, and your potential options for moving forward.
Common Injuries After an Accident
Car accidents can result in a wide variety of physical injuries, but some of the more common ones include:
Whiplash

Neck or spinal injuries

Head injuries

Bone fractures

Lacerations

Internal injuries
In addition to injuries that may be immediately known at the scene, there are also potential injuries that may reveal themselves days later, after your adrenaline has stopped flowing and your body begins to feel the effects of the wreck.
Reasons to Seek Immediate Medical Attention
There are several reasons why receiving medical attention immediately after your accident is your wisest choice, such as:
For Your Health — Nothing is more important than ensuring you and anyone else who was involved in the accident is out of danger as much as possible. Your short-term and long-term health may be affected by the accident, so assessing your physical condition is critical.

Documentation Is Key — From a legal standpoint, gathering every bit of documentation is vital to building a strong case. When filing an insurance claim or pursuing legal action, you will need to have official documentation from medical professionals to confirm the diagnosis and treatment for your injuries.

Insurance Companies Can Hold It Against You If You Don't — Insurance providers, while helpful in many instances, aren't exactly known for being universally kind or easy to deal with. If you fail to seek medical attention immediately following your accident, an insurance company may attempt to argue that you must not have been injured that badly, calling the validity of your claim into question.
These are only a few of the reasons why you should always be examined by medical personnel as soon as possible after a car accident. For both your physical health and your prospects of seeking financial compensation in the future, it is crucial that you seek medical attention.
Following Through With Your Treatment Plan
Just as it's important to seek medical attention after the accident itself, it is also important to make sure you follow through with your doctor's treatment plan exactly as prescribed. Adhering to the doctor's orders will not only help you recover as quickly as possible but also make your claims in insurance negotiations or legal arguments stronger.
Don't Face Your Recovery On Your Own
The aftermath of any accident can be difficult to navigate. When you are injured, however, there may be even larger obstacles to overcome. Fortunately, you don't have to handle all of this alone. By working with an experienced personal injury law firm, you can put yourself in a strong position to recover the financial compensation you need to pay your medical bills, cover your lost wages, and help you with the cost of repairing damage to your vehicle.
At Life Law, we have the knowledge and insight you need to make informed decisions and move forward with confidence and a strong legal strategy. Contact us today to set up an initial consultation to discuss your situation. We proudly serve clients in Raleigh, as well as Nags Head, Asheville, Charlotte, Wilmington, and throughout the state of North Carolina.