What to Do if You Are Hit by a Drunk Driver
Oct. 28, 2021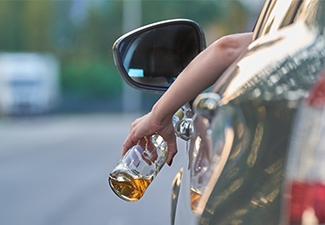 North Carolina averages more than 10,000 drunk driving accidents each year. According to data collected by the North Carolina Department of Transportation, there were 11,492 drunk driving accidents in 2019, with 348 of these accidents involving fatalities and 7,665 of these accidents involving injuries. Although these numbers may seem low when compared to the collective number of traffic accidents that happen each year, the number of injuries and deaths associated with drunk driving accidents is far too high.
For example, the 348 fatalities resulting from drunk driving accidents in 2019 accounted for 23.7% (nearly one quarter) of all traffic fatalities that year. Despite the increase in the availability of ride-share vehicles, drunk driving accidents remain steady in North Carolina.
At Life Law, we know just how catastrophic drunk driving accidents can be, especially when an innocent victim sustains severe and permanent injuries. In the worst of cases, victims suffer fatal injuries. If you or a loved one has experienced the tragic aftermath of a drunk driving accident, consider discussing your legal options with a Raleigh, North Carolina personal injury attorney from Life Law. We are standing by to help.
Steps to Take if You Are Hit By a Drunk Driver
Being involved in any traffic accident is scary and traumatic, but drunk driving accidents reach an entirely different category. Finding the means to act shortly after suffering injuries (or witnessing a loved one's suffering) can be difficult. However, pursuing legal options following drunk driving accident injuries is critical to preserving your legal rights so that you have an opportunity to seek compensation. Steps you can take after suffering drunk driving accident injuries include, but are not limited to, the following:
Seek medical treatment for your injuries;

Collect the insurance information from all drivers involved in the accident;

Obtain a copy of the accident report, police report, your medical records, and any other documents memorializing the drunk driving accident;

Take or obtain photos of the accident scene; and

Speak with a personal injury attorney.
The sooner you act following a horrific drunk driving accident, the easier it is for a personal injury attorney to provide you with legal options for seeking compensation. Documentation is critical to the success of any personal injury case, especially documentation that injuries were sustained in the drunk driving accident.
Liability in Drunk Driving Accidents
Drunk drivers are subject to both civil and criminal penalties. Like any negligent driver, a drunk driver can be held liable in a personal injury lawsuit for causing an accident that results in the injuries or death of another person. However, because drunk driving is criminal, voluntary conduct, drunk drivers must answer to criminal penalties and heightened civil penalties in the form of punitive damages.
Criminal Penalties for Drunk Driving Accidents
Like most states, any driver whose blood-alcohol content (BAC) is .08 or greater is guilty of driving while intoxicated. Penalties for drunk driving are dependent upon the severity of the conduct in question. North Carolina law categorizes drunk driving charges as misdemeanors (Levels I through V, with Level I being the most severe misdemeanor) or as felonies.
Drunk drivers who cause an accident that results in bodily injury or death face felony drunk driving charges at the highest level. Drunk driving that results in bodily harm is considered a "grossly aggravating factor" under North Carolina Statute Section 20-179(c)(3). As such, the penalties for felony drunk driving with grossly aggravating factors are severe, landing a convicted person in jail and facing fines, among other penalties.
Wrongful Death
If your loved one was killed in a drunk driving accident, you might have the option of pursuing a wrongful death lawsuit that seeks to hold the drunk driver responsible. Under North Carolina Statute Section 28A-18-2, the legal representative of a deceased drunk driving accident victim can file a wrongful death lawsuit seeking compensation for the deceased victim's estate.
Punitive Damages for Drunk Driving Accident Injuries or Wrongful Death
Under North Carolina Statute Section 1D-1, punitive damages may be awarded in a civil lawsuit "to punish a defendant for egregiously wrongful acts and to deter the defendant and others from committing similar wrongful acts." Additionally, North Carolina Statute Section 1D-26 lifts the cap on punitive damages in drunk driving cases, which means that a verdict that exceeds the punitive damages cap will not be lowered by the court.
In other personal injury cases where drunk driving is not an issue, the cap on punitive damages is three times the award of compensatory damages (which involve pain and suffering and economic loss) or $250,000, whichever amount is greater.
Working with an Experienced Personal Injury Attorney
Finding an attorney with experience handling drunk driving cases is imperative to the success of your personal injury case. You need a strong advocate by your side to represent your rights both inside and outside the courtroom. Demonstrating the pain and suffering you have gone through in addition to the economic harms (such as medical expenses and lost wages) are instrumental to your chances of recovery.
Contact Life Law Today to Receive Your Free Case Assessment
If you have suffered injuries in a drunk driving accident or wish to seek advice on behalf of a loved one, time is of the essence to speak with an experienced Raleigh, North Carolina personal injury lawyer. At Life Law, we provide injured clients with guidance and support every step of the way. To receive a free case evaluation, contact Life Law today. We proudly serve clients in Raleigh, Charlotte, Asheville, Wilmington, and throughout North Carolina.