Don't Be Sidelined by Bad Faith Insurance Tactics
June 8, 2021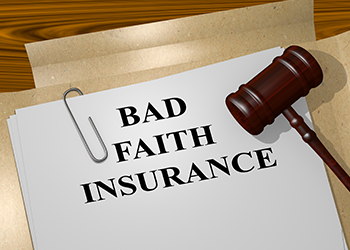 According to a personal injury study by Martindale-Nolo Research, plaintiffs who accepted the insurance company's first offer received settlements that were, on average, $30,700 less than those received by claimants who held out for a better deal. When a victim files a personal injury claim, it is the responsibility of the insurer to investigate, negotiate, and settle such claims fairly and in good faith. Unfortunately, when settling injury claims, some insurance companies use bad faith tactics, such as lowballing, denying valid claims, legal misrepresentation, and offering absurd first settlement offers.
If you believe that an insurance provider may be negotiating your injury claim in bad faith, you are within your rights to take legal action against the insurer. Our experienced North Carolina personal injury attorneys at Life Law can review your circumstances and investigate the insurance provider's conduct. As your legal counsel, we will fight to represent your best interests and help you pursue your rightful compensation.
At Life Law, we are proud to represent personal injury victims throughout Raleigh, Wilmington, Charlotte, Asheville, and Franklin County, North Carolina.
Common Bad Faith Tactics
Dealing with insurance providers following an accident or personal injury can be difficult. The entire situation can become more frustrating when the insurer fails to honor the terms of their contract or policy. Bad faith tactics involve the unfair, unethical, or dishonest practices used by insurance carriers to reduce, delay, or deny payments of injury claims. Below are some common bad faith insurance tactics:
Low-Ball First Offer
Settling a personal injury claim for a relatively low amount is considered a bad faith tactic. The insurance provider may offer you an absurd first settlement offer with the hope that you'll accept it. With accident-related expenses accumulating, injured victims are typically pressured into accepting the first settlement offer. Unless you have reached the Maximum Medical Improvement (MMI) or the full magnitude of your injuries, damage, and losses have been determined, you should never accept the initial settlement offer.
Lengthy Delays
Under North Carolina law, an insurance company has up to 30 days to acknowledge a claim. The acknowledgment can include denying your injury claim, making a settlement offer, paying the claims, or informing you about an ongoing investigation. Failing to respond to communications or dragging out the settlement are unreasonable delay tactics used by insurers to frustrate plaintiffs.
Failure to Conduct a Thorough Investigation
Insurance carriers have a duty to promptly and comprehensively investigate all injury claims filed. Failure to conduct an in-depth investigation or review evidence relevant to liability issues or damages may be considered bad faith tactics.
Moreover, North Carolina follows a pure contributory negligence principle. This is literally a defense that stipulates that an injury victim cannot recover any damages if they were in any way responsible for their injuries — even if they were only 1% at fault.
It is an act of bad faith for the insurance company to cite pure contributory fault in order to avoid paying compensation to the plaintiff without conducting any thorough investigation.
Legal Misrepresentation
Insurance providers are obligated to be honest and transparent in their statements regarding the insurance policy and its legal terms. Misrepresenting the law, intentionally misinterpreting policy coverage and language, or interpreting it against the plaintiff are acts of bad faith.
Refusing to Pay Valid Claims
An insurance company that refuses to pay or settle a valid claim following an accident may be using bad faith tactics.
Threatening Statements
Furthermore, insurance companies are expected to treat policyholders respectfully, courteously, and in a professional manner. Harassing or making threatening statements to policyholders or third parties who file injury claims after a traffic accident is an act of bad faith.
North Carolina's Unfair Trade Practices Act
According to the North Carolina General Statute Section 58-63-10, no person shall engage in any trade practices that are considered to be an unfair method of competition or an unfair or deceptive act or practice in the business of insurance.
Under North Carolina General Statute Section 58-63-15, the following are hereby defined as unfair methods of competition and unfair and deceptive acts or practices in the business of insurance:
Making, issuing, or circulating any estimate, illustration, circular, or statement misrepresenting the terms of an insurance policy.

Making, publishing, disseminating, or circulating statements with respect to the business of insurance that is untrue, deceptive, or misleading.

Making, publishing, disseminating, or circulating any oral or written statement that is false, maliciously critical, or derogatory to the financial condition of an insurer.

Entering into any agreement to commit any act of boycott, coercion, or intimidation resulting in monopoly or unreasonable restraint in the business of insurance.

Filing false statements of the financial condition of an insurer with intent to deceive.

Issuing contracts of any kind promising returns and profit as an inducement to insurance.

Making or permitting any unfair discrimination regarding the terms and conditions of insurance contracts.
Your Attorney's Role in a Settlement
Insurance companies and adjusters use bad-faith tactics to deny or delay injury claims. Thankfully, there are consumer protection laws in place to protect personal injury victims. If the insurance company is negotiating using bad faith tactics or has denied your injury claim without any lawful reason, it is important that you retain an experienced personal injury attorney immediately to protect your rights and help you seek fair compensation.
At Life Law, we have the resources and experience to guide clients through complicated legal issues involving denied claims and bad faith tactics of insurance providers. As your legal counsel, we will review and investigate every detail of your case and determine whether your injury claims have been affected by bad faith tactics. Using our extensive experience and comprehensive understanding of North Carolina insurance laws, our attorneys can fight to protect you and help you negotiate a fair settlement to cover your injuries and damage.
Contact us at Life Law today to schedule a free one-on-one case assessment with one of our experienced personal injury attorneys. We will offer you the comprehensive legal counsel and strong representation you need. We proudly represent clients throughout Raleigh, Wilmington, Charlotte, Asheville, and Franklin County, North Carolina.